The Crystal Palace & Norwood Chamber of Commerce represents businesses in and around Crystal Palace and the Norwoods. Crystal Palace is a thriving, vibrant and dynamic location for businesses to prosper. We sit in the centre of 5 of South London's most exciting boroughs, Bromley, Lambeth, Southwark, Croydon & Lewisham and this has created somewhat of a hub for creative businesses, digital companies, artisanal crafts people and independent SMEs.
The Chamber of Commerce is an important part of this local business community. The strength of membership and range of services it offers make it the most effective independent business support organisation in the area. One of the most important services the chamber offers is business networking. To this end a new breakfast networking meeting, 'Business Bagel', is being launched. Starting Wednesday March 20th and running monthly every third Wednesday of the month at 7:30am, the meetings are intended to provide informal business to business networking over breakfast in a congenial and relaxed atmosphere where local business people can get together, enjoy mutual experience, share their good news, views and discuss topics of mutual interest. Members from all types of businesses are welcome, all attendees will be given the opportunity to give a short (30s – 1m) introduction to themselves and the business they're representing wherein they can highlight anything interesting they are currently working on or services they offer which might be of particular interest to the assembled members etc., and each month one company will have the opportunity to give a longer, 10 mins or so, presentation with time for a Q&A session to explain in detail the full range of services their business offers.
Business Networking is an extremely effective way to expand your knowledge, learn from the success of others, obtain new clients and tell others about your business, if your business is worth investing in then business networking is one of the easiest decisions you should have to make.
Benefits:
The advantages of business networking are many and varied but the four key benefits the Business Bagel is looking to promote are:
The beauty of business networking is that you are not just meeting the people in the room with you there and then, you are also effectively meeting with all of the people in all of their networks. Your aim should be to become their go-to person for whatever problem your company solves, such that any time one of their clients has a problem you can solve you get the referral.
Whenever you get a room full of business owners, business founders, business representatives you invariably start finding opportunities for joint ventures, partnerships, client cross selling and up selling, shared offerings etc. etc. Whatever your industry, whether you are specialists in a tiny niche or offer services across a broad spectrum chances are that you will meet someone offering a product or service that can in some way compliment yours.
More often than not in business, finding the right solution is about finding the right person to help you out. So the more people you know the more likely you are to find the best solution. The Business Bagel aims to give you the opportunity to increase your network by 20 or 30 people every month, all while enjoying a quality cooked breakfast.
Support & business advice
The core objective of the Chamber of Commerce is to provide support to local businesses. The Business Bagel meetings aim to extend this both through informal chats with like minded business people who may have been through similar situations to putting businesses in touch with appropriate service providers.
Meetings 
Meetings will be held at Casa Cuba, 99 Church Road, SE19 2AR on the third Wednesday of every month 7.30am to 9.00am. Tea, coffee, juice hot breakfast baguette and pastry is provided (apologies to bagel lovers).
Guest Speakers
There will be an opportunity each month for one company to give a full presentation – approx. 10 minutes plus Q&A session. Please contact lewis@linkmetric.com or tim@gunpowderstudios.co.uk.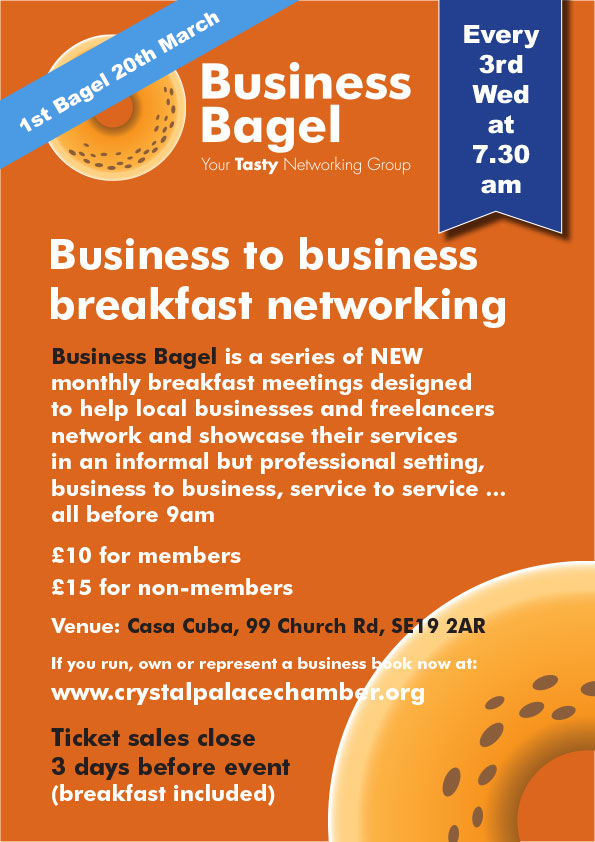 Category: Business and Politics