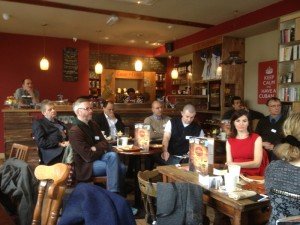 The Crystal Palace & Norwood Chamber of Commerce represents businesses in and around Crystal Palace and the Norwoods. Crystal Palace is a thriving, vibrant and dynamic location for businesses to prosper. We sit in the centre of 5 of South London's most exciting boroughs, Bromley, Lambeth, Southwark, Croydon & Lewisham and this has created somewhat of a hub for creative businesses, digital companies, artisanal crafts people and independent SMEs.
The Chamber of Commerce is an important part of this local business community. The strength of membership and range of services it offers make it the most effective independent business support organisation in the area. One of the most important services the chamber offers is business networking. To this end a new breakfast networking meeting, 'Business Bagel', was launched last month.
The morning was a great success; we had around 30 people attend representing small local businesses from crafts people such as a furniture maker and a dress maker to bars and restaurants to a web designer and mobile app developer through to larger firms such as accountants and solicitors. Casa Cuba laid on a superb breakfast and made the morning with some of the best coffee this side of Cuba.
The meeting provided a relaxed and engaging forum for attendees to meet and discuss business ideas. All attendees were given the opportunity to give a short (30s – 1m) introduction to themselves and the business they werre representing giving a highlight anything interesting they are currently working on or services they offer which might be of particular interest to the assembled members etc., and each month one company will have the opportunity to give a longer, 10 mins or so, presentation with time for a Q&A session to explain in detail the full range of services their business offers.
Meetings
Meetings will be held at Casa Cuba, 99 Church Road, SE19 2AR on the third Wednesday of every month 7.30am to 9.00am. Tea, coffee, juice hot breakfast baguette and pastry is provided (apologies to bagel lovers).
Guest Speakers
There will be an opportunity each month for one company to give a full presentation – approx. 10 minutes plus Q&A session. Please contact lewis@linkmetric.com or tim@gunpowderstudios.co.uk.
http://www.crystalpalacechamber.org/business-bagel
Category: Business and Politics