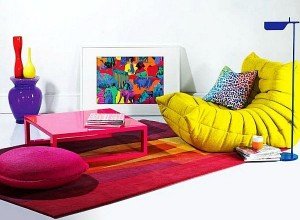 Go to any nursery or school environment and you'll probably find bright, colourful rooms filled with beautiful artwork that the kids have created. Vibrant shades of red, green, yellow, blue, pink and all the other colours of the rainbow go hand-in-hand with children who tend to be drawn towards vibrant hues, so why not replicate this kind of surrounding at home? Here's how:
1. Get hold of some chalkboard paint
If you want to give children a room in the house where they can have fun – be it their bedroom or a separate space – be sure to get hold of some chalkboard paint from the likes of RawlinsPaints.com. This is available in many different colours and essentially turns any surfaces, including spare walls, into a giant chalkboard. Children can then use different coloured chalk to draw pictures; play noughts and crosses; write stories and basically do anything else that takes their fancy all while simultaneously decorating one area of their room.
2. Put down bright, educational rugs
It's amazing how much warmth and comfort a rug can add to a room, so if you've thin carpet, tile or wooden floors, it's well-worth looking out for bright, educational rugs such as those with numbers or letters written across them. Alphabet rugs are readily available and you can even buy world map floor mats with a picture representing countries and continents. Mats depicting the solar system are also popular or you might decide to look for a snakes and ladders rug which children can play on.
3. Invest in some bright beanbags
The great thing about beanbags is that they can squish into the smallest of spaces and be carried around the home with ease. So, if your children need something to sit on when watching the TV, or if you're just trying to create a relaxed, chill-out zone for them to enjoy, bean bags are a must. Not only are they comfortable and the ideal place to read a book or magazine, they're also sold in an array of bright colours which will look fantastic in a colourful play area.
4. Create a tented reading area
Whether you buy a colourful tent or simply make your own from soft, bright materials, creating a tented reading area is the perfect way to encourage your youngsters to retreat with a book. Make it as cosy as possibly by placing cuddly toys and cushions inside and ensure it's on a soft surface so that your children can stay in there for long periods of time if they want to. Even if your kids don't read inside the tent, they'll appreciate having an area to call their own and can use it for the many role play games little ones enjoy.
Everything from buying multi-coloured duvet sets to investing in lava lamps or colourful storage boxes will all revitalise a children's play area, so go ahead and create a space that's fun, enchanting and original.
Category: Shopping