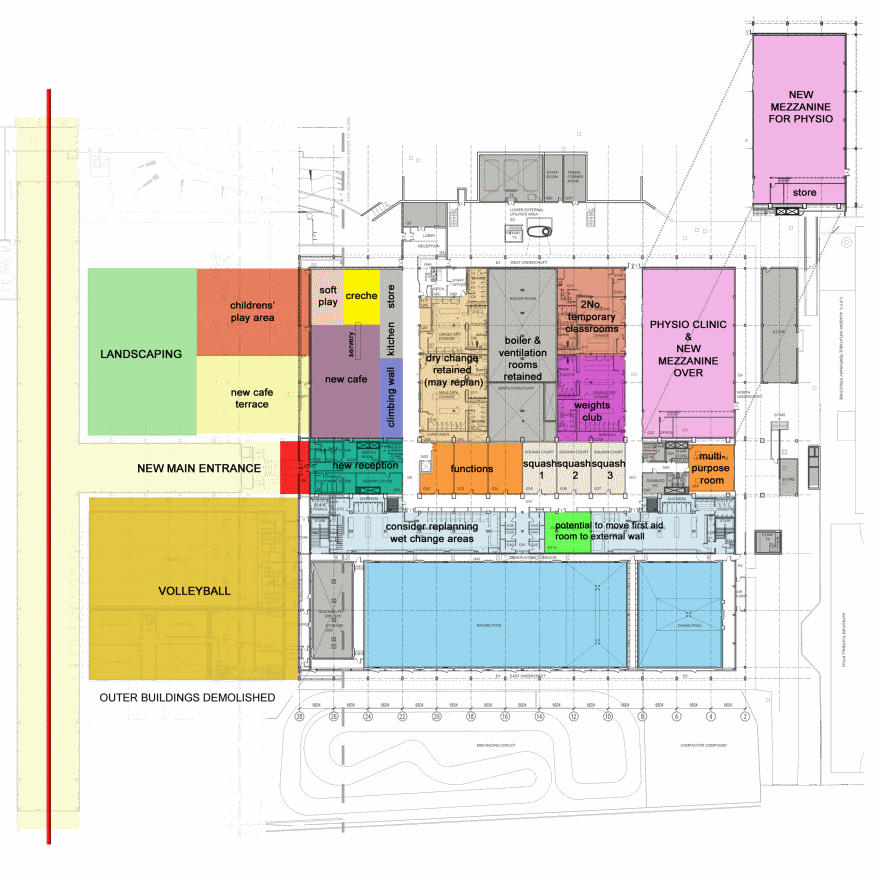 DEVELOPMENT CONCEPTS - MAIN BUILDING
The plan for the National Sports Centre is to reinstate the Paxton Axis (linked to the Masterplan for the wider park) and remove the bridge link and other buildings to the front of the main building.
This would allow the reception to be relocated to ground floor level, next to a new café, soft play facility, crèche and new climbing wall. There could also be outdoor terracing supporting the café, a playground and public space improvements alongside the relocated volleyball courts.
Health and fitness would then be relocated to the current reception/ café area and the mezzanine space above this. This would give views out to the park and create a vibrant, active space at the front of the centre.
These plans would allow the current health and fitness suite to be used for alternative, complementary income generating uses.
Facilities to be permanently removed include:
Indoor athletics track - low usage/ no longer required for elite training
By removing buildings at the front of the centre we could relocate the following uses within the centre:
25 metre learner pool - lessons relocated to main pool hall following adaptation works i.e. moving floor
Weightlifting club
Indoor 5-a-side football - options currently being explored
Other important parts of this concept for the main National Sports Centre include (shown in the following illustrations and plans):
Modernising multi-purpose spaces within the building
Flexible space retained on the North Balcony for various uses
The majority of other facilities are expected to stay the same.
4249 floor plan level0