So what should we do about the state of British horse racing? Last month at least 23 horses died as a result of injuries on racecourses , with five dying in the first two days of the Cheltenham festival. I cannot believe the it has been allowed to continue unchecked but perhpas this will change after Saturday's harrowing scenes.
"The deaths and injuries to the animals seem to be regarded as, at best, nothing more than inconvenient consequences of the race and at worst 'just one of those things'.
The brutality of last year's competition in particular – where only 19 horses finished out of a field of 40 – was compounded by the sickening sight of the exhausted horse, Ballabriggs, being whipped to the finishing line to win the race.
The central failing of the Grand National, as
with all steeplechase racing, is that the horses are not physically designed by nature to leap over high fences. Their bodies are not strong enough, nor are their legs sturdy enough. Every time a horse jumps over an obstacle, especially with an added human load, it puts tremendous pressure on its two front legs as it lands."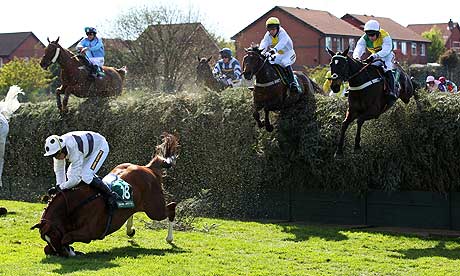 so should it join the list of The Banned along with fox hunting, bear baiting & cock fighting or could it be made safer ie fewer competitors, lower fences etc or should it only take place on flat tracks or should the cruelty continue?