VN-ers who have been members for a while will remember that we used to have a homepage that didn't contain the forums. People would arrive on the site and see a list of links and a section that discussed what the site was about. That worked well but after a website upgrade and site redesign I removed the excess pages and made it so visitors went directly to the forum section after typing in the website.
Well we're bringing back a new homepage but this time with new/different content.
Why?
A website's value is based on its content which affects the number of visitors (especially return visitors). The forums themselves are where the action really is and we have great discussions there each day. A new homepage with 'articles' can generate somewhat more formal content that will help indexing in search engines, leading to more visitors (and new members), which leads to more discussion and opinion in the forums. There will also be a spot in the new homepage for people to manage their subscription to our VN newsletter.
What will it look like?
The new homepage will look like a news/magazine style website, with articles arranged in categories. See the mock-up below. The categories could be What's On / Entertainment, Deals and Discounts, News and Sport, Science / Health / Technology, Politics, Business etc. (please share your ideas for any other relevant categories).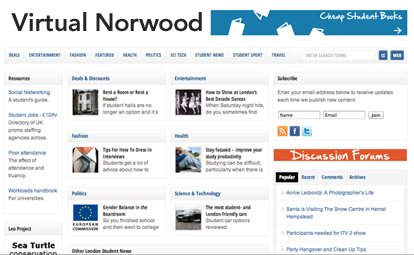 Will it affect the forums?
Not at all. The forums will continue to function and look as they do now. No change in login details etc. are required. To access the forums you will still type virtualnorwood.com and then you will see a link for 'discussion forums'. Click there, to see what you're seeing now. Otherwise you can click around (or search) the articles.
What do you mean by articles?
The content in the new style homepage is made up of categorized articles. These articles can be moderator/admin/press release or even member generated. The style will be somewhat more formal than a forum post. You will be able to leave a comment below the article post and reply to other members' comments (these messages may need to be approved by a moderator/admin. For a more detailed discussion on any article you will be able to start a discussion thread in the forum as usual.
Let me know your thoughts/questions below. I'd like to roll something out very soon but can always change things. Also if you have an article in you and would like to be published please email your article to: