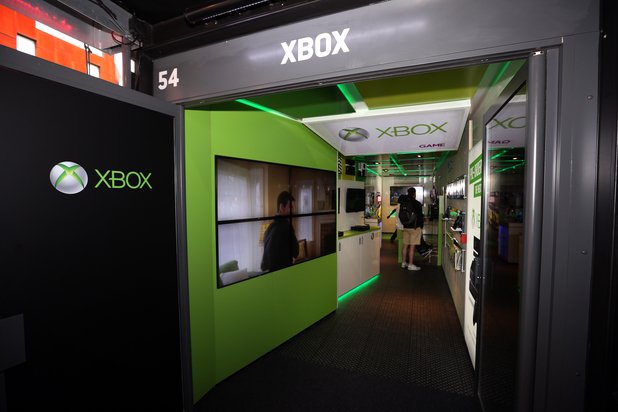 A "one-of-a-kind" GAME concept store has opened in London, which exclusively sells and displays Xbox products. The store, which opened last month in BoxPark Retail Mall in Shoreditch, will hopefully boost sales of Xbox consoles, equipment and games.
"Our partnership with GAME represents another way Microsoft is investing in retail and creating a unique offering for both partners and consumers, as we continue to build on the Xbox 360's success as the number one selling console in the UK," stated Microsoft's Jon Grimes.
Released eight years ago, the Xbox One continues to enjoy success. Not only has the console secured the top spot in the UK market, but it is also performing impressively in the US, where it became the best-selling console for the 29th consecutive month after selling 114,000 units in May.
In stark contrast to this, the new Xbox One's future appears very uncertain, as many features of the console sparked controversy amongst potential consumers. Microsoft has attempted to correct this by removing their constant internet requirement, instead only asking players to connect during the initial system set up. In a move praised by GAME, the game company also scrapped their policy that restricted players from lending or selling their used games.
However, the Xbox One doesn't only face competition from new consoles released by Sony and Nintendo, but from the online and mobile platform as well. As smartphone sales reach 1 billion this year, more and more players are choosing to access game content on their mobile or tablet devices. According to a report by App Annie & IDC, this has now lead to mobile content outselling traditional handheld game consoles for the first time.
PC is also performing well on the gaming market, as a new study by the Entertainment Software Association has highlighted the use of different game platforms in US households. Although consoles still held the lead, with 68%, PCs were performing significantly better than expected at 63%. These studies indicate that players may be choosing to find alternatives to new consoles with mobile apps or online gaming content such as Steam or casino sites like MoneyGaming.com.
Nick Wingfield of the New York Times said: "The new device, the Xbox One, is a big gamble by Microsoft that it can re-establish the living room as the place where people can get the best gaming experience, with the most eye-popping graphics and innovative methods for controlling games."
Despite this though, the Xbox exclusive GAME store is expected to bring a boost to the console sales figures. Interactive features will include playable gaming pods and a head-to-head challenge area. The GAME shop will also stock the new slim line Xbox 360, as well as limited edition "Mybox" console skins and various other hardware and software.
"The new store is not only a great way for gamers and consumers to find our products, but they can learn more about Xbox with engaged and dedicated retail staff," said Grimes.
David Howard of GAME added: "The GAME Xbox store at BoxPark takes the shopping experience to the next level, representing the world with a bold new face for retail and showcasing the very best of Xbox to the UK gaming community.
"This concept store comes with a wealth of potential and we look forward to revealing more about our plans in the near future."
Photo Credit: DigitalSpy.com
Category: Entertainment