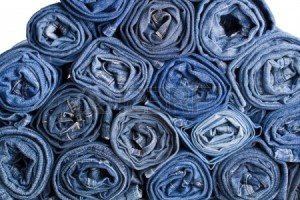 You will struggle to find a woman who doesn't have at least one pair of jeans in her wardrobe; they are an essential and go-to item of clothing. They can be dressed up to look stylish for a night out, dressed down for a laid back casual daytime look or smartened up to wear to the office.
But, do you find that you often struggle to style them correctly for these various occasions? Often looking at the man in your life with jealousy as he simply throws on his trusty pair of jeans with a top? If so, then read on and you will be a denim jeanious in no time!
The jeans
You are setting yourself up to fail if you are trying to style the wrong pair of jeans. So, firstly you need to make sure you have chosen the right pair – do your research, try a few on and ensure you find a pair that fit, you feel good in and are comfortable in.
Just because you always get straight leg jeans from a certain high street store, doesn't mean you have to go there every single time. Take a look at different shops – like these jeans from Superdry – and the various designs available. You may think that flares are a big no-no for you, but how do you know until you try?
What are they for? If you want to wear them to work, then perhaps look for a darker pair without rips. For an evening look you might want to go for the on-trend busted knee look – either in blue, black or white and for the daytime you might want to stick to the classic and trusty skinny blue jeans.
The top half
After you have chosen the right pair of jeans it's time for the top half. A cami top and blazer is always great to smarten up for work, while a t-shirt provides a laid back vibe for the daytime and a blouse is perfect for a night on the town. 
The bottom half
It is important to match the right shoes with the right pair of jeans. If you are looking for a comfy, casual look then a pair of trainers or flats are perfect. If you are looking for a more dressy or sophisticated look then opt for a pair of statement heels.
The accessories
Don't forget about the accessories – how about a statement belt with bright colours or bold patterns?
Customise your denim
Do you want to stand out from the crowd? Then make your jeans as special and unique as you are by customising them. This could mean adding extra material or a pattern, taking them up at the ankle of creating extra rips, holes and frays.
Denim doesn't just have to mean jeans…
Double denim is back and with so many items to choose from including pretty pinafore dresses, chambray shirts, fur-lined denim jackets, button-down denim skirts and the return of the 90's dungarees, why not double it up and mix and match for the perfect denim look?
Category: Shopping