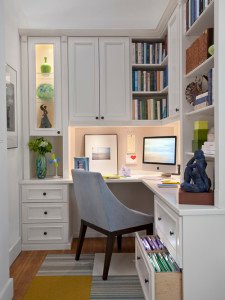 Many of those who opt to work from home don't always have an extensive budget to spend on creating the perfect home office. Most self-employed will invest their money on the tools of their trade, rather than their office space. There are ways in which you can establish a functional and beautiful home office, without blowing your budget.
What are the basics?
First of all paint your office in colours that you love and that could be considered restful. It's unlikely that you'll be able to concentrate enough to assess your profit and loss account if the walls of your office are a vibrant pink, or your black and red walls appear to be caving in on you every time you enter your office. Once you've painted your room, select a few items of furniture. A comfortable office chair, fitted with castors from Tente UK, will be invaluable.
You'll also need a desk. You don't have to invest in a new piece of furniture, if you're a clever carpenter, you can always build one using an old door supported by two trestles, or even refurbish a traditional sewing machine stand to create a new desk.
Shelving is useful
If you don't have enough money in your design budget to invest in a filing cabinet, then why not build shelves to store all of your essential files. The magazine House to Home suggests that you regularly declutter your office in order to create a manageable and ordered working space.
You won't want to waste precious time looking for invoices or expense receipts when it comes to filling in your tax returns, also you could also use some functional plastic boxes that are clearly labelled and can be place underneath your shelves.
Space is no object
It doesn't matter if your home office is relatively tiny. It's important that you make the best use of the available space. You might not consider an item of comfort essential for the office, but you may be working late at night and find a sofa or a comfortable chair helps to promote creative thought, or simply helps you unwind. Charity shops and online recycling resources can come to your rescue when looking for all items of furniture.
An office in the shed
If space in your home is at a premium, you can always convert your shed into an office. As long as you have an electricity supply and access to WiFi it needn't cost a fortune. Heating will have to be taken into account, but there are plenty of inexpensive portable heaters on the market.
This is also a relatively cheap alternative to hiring or renting an office, and there are those that feel that they need a distinct separation from their house in order to get into 'work mode.'
Be inventive
A useful article in The Daily Telegraph suggests converting standard household items for function in your office. For example a wooden stepladder could be adapted as shelves.
You can even make your office more inviting by running up some brightly coloured cushion covers that will match your window blinds. Just remember to stick to your decorating budget and you'll find that it's easy to create the perfect home working environment.
Category: Business and Politics