National Libraries Day is this Saturday 9 February. In celebration, we have a whole range of events for all the family throughout the day. One of the highlights is a blogging workshop & Experience at West Norwood Temporary Library, hosted by 9libraries100books at 2pm.
9libraries100books is an interactive project that is not only a blog, but also has Facebook page and is on Twitter.  9libraries100books describes this project as "an opportunity to fall back in love with libraries and their books.  Using the BBC's list of Top 100 Novels 9libraries is attempting to read all 100 of them in one year, borrowing each from one of the 9libraries in Lambeth whilst positively recording and documenting people's experiences of borrowing, commenting on the services they provide and ultimately discussing the value libraries have within our communities."
So if you've ever had an idea that you thought would make a great blog but weren't sure how or where to start, then come along. Many great books and films started life as a blog, so you never know, you could be the next big thing!
They'll also be some live blogging throughout the afternoon so you can see how it's done and really experience what blogging is like.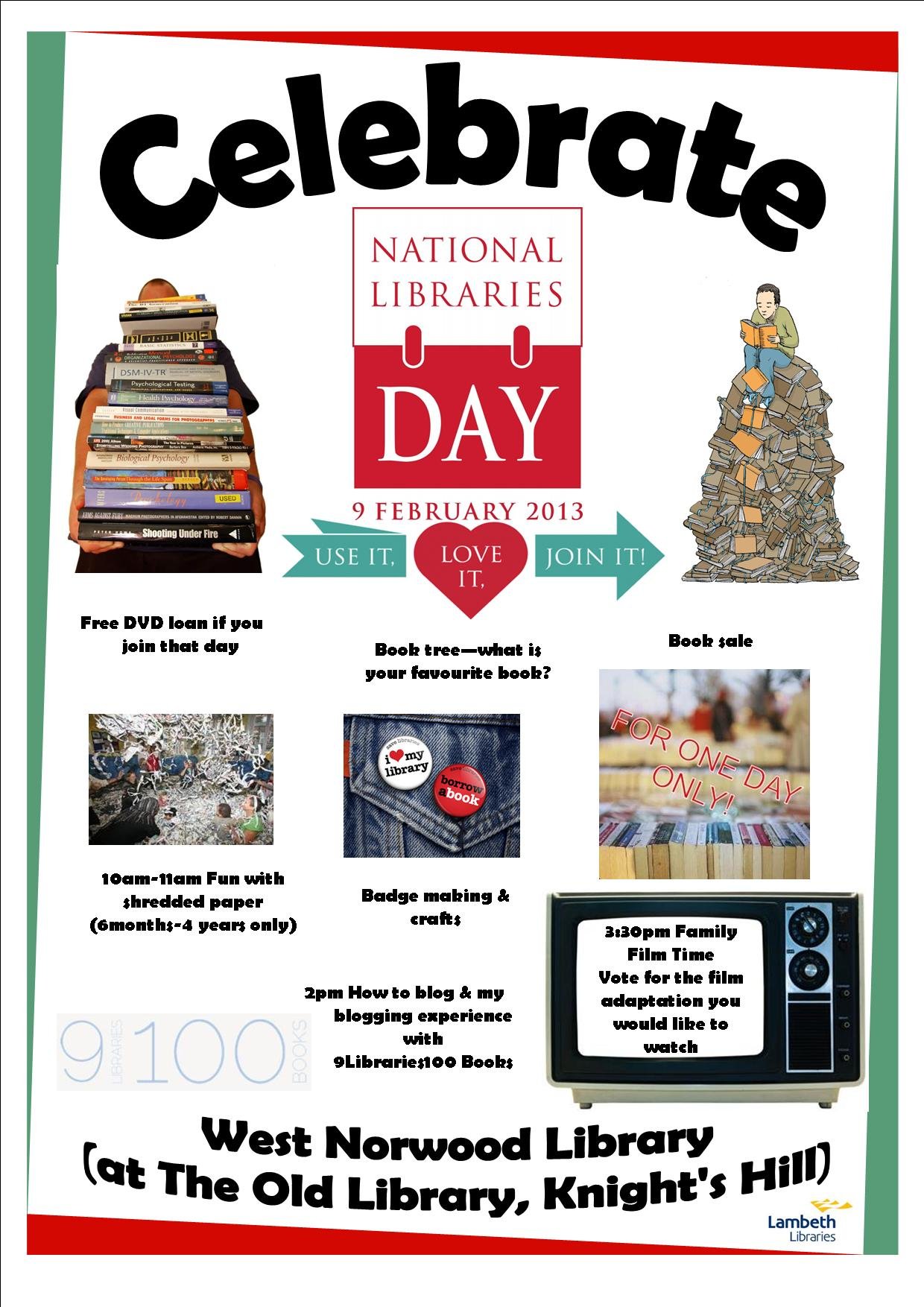 Find more information at the following links:
Blog – http://www.100books.co.uk
Twitter – https://twitter.com/9libraries,
Facebook – https://www.facebook.com/9libraries100books
Here is a schedule of our National Libraries Day Celebrations on Saturday 9 February
10 – 10:45am – Newspaper Snow Storm (6 months – 4 years)
This is going to be a one of a kind event.  There will be music, there will be fans and finally there will be hundreds of bits of paper torn up by you and your child(ren) to create an avalanche over your heads.  It's sure to be a fun.  Don't miss out!
11am – 1:45pm Badge making and crafts.

2pm – How to Blog and my experiences by 9Libraries100Books
2:30pm  Reading from Samuel West
Samuel West who recently played King George VI in Roger Michell's Hyde Park on Hudson. Samuel previously starred on stage in Enron which earned him a Best Actor nomination at the Olivier and Evening Standard Theatre Awards. His other stage credits include Uncle Vanya (Vaudeville) The Family Reunion (Donmar) and the title roles in both Hamlet and Richard II (both RSC). His film and TV credits include, Mr Selfridge, Eternal Law and Any Human Heart.  Samuel grew up in Wandsworth, where he joined the Battersea Rise Children's Library aged seven, and now lives in Islington, where he frequently borrows books from the Central Library in Holloway Road.
3pm Children's reading from Grainne Keenan
Up and coming actor Grainne Keenan will also be reading from J.K. Rowling's Harry Potter and the Philosophers' Stone so if you've got little Harry Potter fans then please bring them by.  Grainne's theatre work includes 'Scenes from an Execution' National Theatre, 'Playboy of the Western World' The Old Vic Theatre, 'Macbeth' The Abbey Theatre, Dublin, 'The Thunderbolt' and 'Alison's House' The Orange Tree Theatre. TV credits include 'Law and Order UK', 'Titanic'(ITV) 'Doctors' (BBC). Film Credits include 'The Look of Love' (2012) and 'Half of a Yellow Sun' (2012). Radio work includes 'Courtly Love', 'Ulysses', 'The Strangers Will' and 'Something Understood', all for BBC. 
3:30pm – Family Film Screening
Vote for your favourite book adaptation on the day.
PLUS
Join up on the day and get a FREE DVD loan
Refreshments served by Friends of West Norwood Library
Book sale, book give-aways and more
Category: Business and Politics, Entertainment