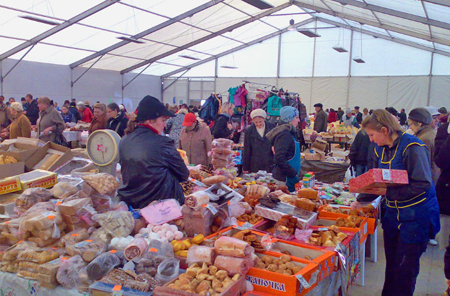 Outdoor market events can be a logistic nightmare for the inexperienced. It requires an intense amount of detail-oriented work, time and effort to put together a great event. Often, it's better to leave it to professionals who understand the many intricacies involved.
However, anyone who is looking to organize a market event should know the basics on how to run it successfully and safely.
With that in mind, we have prepared a short 3-step guide to run through the most important aspects.
Pre-plan and prepare the outside venue
Whether you require a spacious market hall or a smaller sales stand, an outside event venue (particularly during harsher weather) needs to be prioritized over every other logistic. Fail at this and the entire event could be a catastrophe.
The best plan when organizing an outside event is to use market tents with all-inclusive development and construction. There are numerous reasons for this:
First, this ensures that the tents are safe for use, sturdy and durable.
Second, they may come included with important accessories such as lighting, flooring range and air-conditioning or heating systems. These are difficult to put-together when outsourcing separately.
Finally, professionals can set-up the market tents quickly and efficiently, ensuring that it is ready for the launch date.
Set-up all relevant logistics
Setting up an event requires people, equipment and time. Unfortunately, events tend to always include last-minute frenzied preparation as many aspects are not in the event organizer's control. There are usually many logistics at play which depend on collaboration with various people and companies. This is why event planning can be a challenge to put together and requires intense pre-planning and back-ups.
Among the numerous logistical preparations are:
Venue rental
Lighting equipment
Music equipment
Air conditioning or heating
Setting up of stands
Travel
Parking
Signage
Hand-out material
Security and/or on-stand medical attention
The list expands depending on the venue and size of the event. It's always a better choice to hire a professional with knowledge of all details to be taken into account, or otherwise, begin to pre-plan the logistics months in advance.
Consider the fine print
A large part of running a successful outdoor market event is ensuring that all appropriate laws and contract details are considered and respected. An event planner will usually know these inside-out, but someone lacking the experience may be unintentionally breaking the law or taking unsafe risks.
Venues must follow safety, health and welfare laws (this is why we recommend hiring professionals who can set up fully compliant market tents) and not pose any potential endangerment. In many cases and depending on the size of the event, there may be a requirement to have a small first aid team on board in case of emergencies or even security staff.
Additionally, even issues like the type of music played may require further considerations in order to not violate intellectual property laws. All these issues should be discussed in advance with an expert, even for smaller events.
Category: Entertainment