Virtual Norwood member Borgus recently brought to our attention the public convenience in West Norwood coming up for sale opposite the cemetery and next to the Tesco car park entrance.
After further investigation, it seems if you haven't already attended a viewing (see the schedule below) or made an offer prior to last Friday (10th January), then you may have lost out.
The schedule is as follows:
Viewings will take place between 12-12.30pm on:
Thursday 5th December 2013
Thursday 12th December 2013
Thursday 19th December 2013
Tuesday 7th January 2014
Offer Date
Offers are to be submitted by noon on 10 January 2014
in accordance with the conditions of sale published
within the Information Pack.
The highlights of the property, aside from it being such an unusual and exciting prospect are:
613 Sq Ft (57 Sq M)
• The site is located in an area of good footfall
• Ideally located close to West Norwood Station
• New lease or leasehold interest available
It does make you think what such an unusual property could be converted into? The property pack describes the opportunity as, "a former public convenience suitable for alternative uses, subject to planning."
It also mentions that the Council is interested in proposals for town centre uses, including, for example, retail, food and drink, smaller scale offices/business uses, or residential use.
You can fins out more about the property via Lambert Smith Hampton's property pack below. If you did make an offer we'd love to get the scoop on your plans!
Comment on this story below, or in the forums here.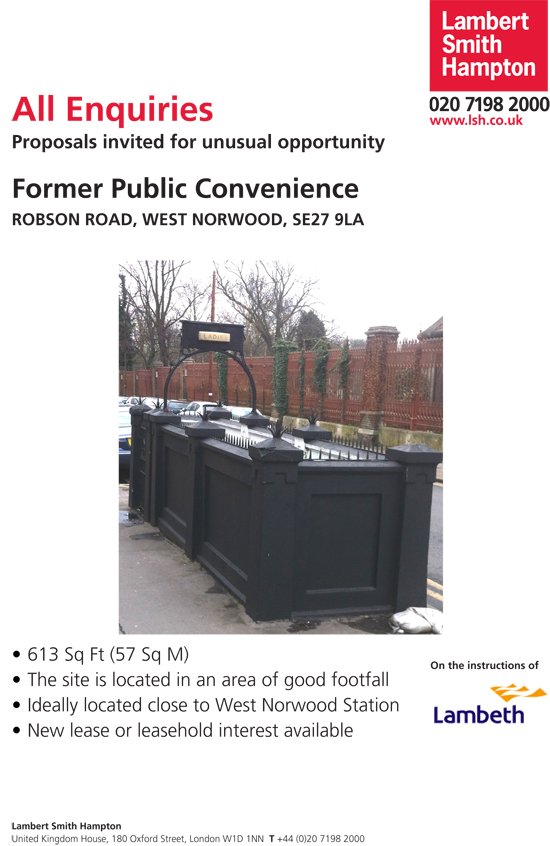 Category: Business and Politics