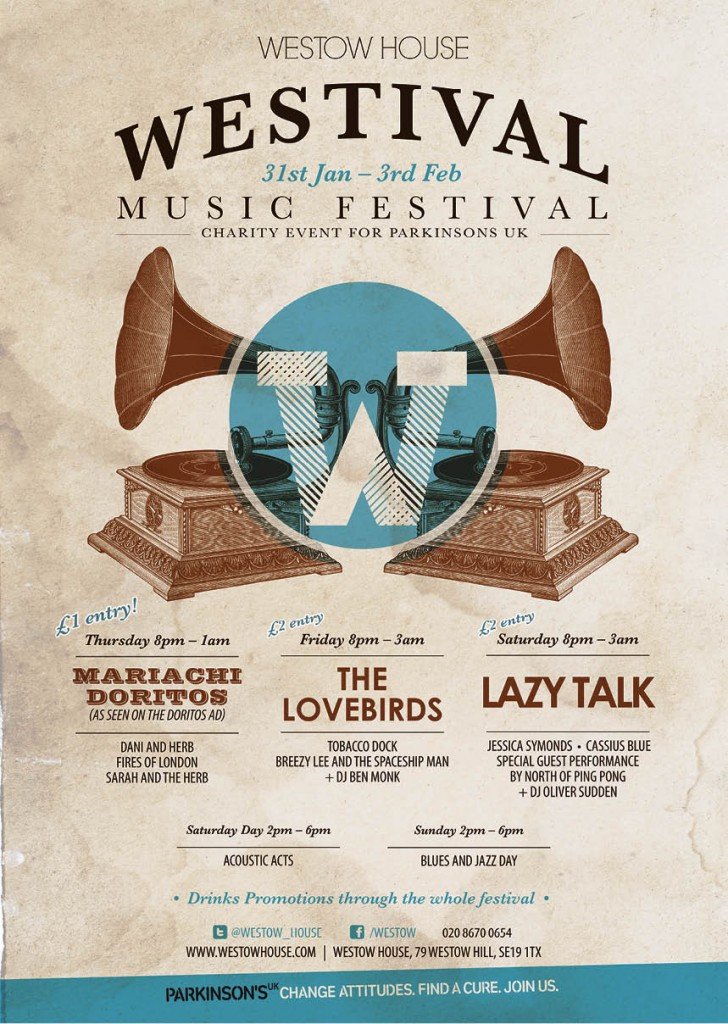 Click the flyer above for more details.
Westival is a charity festival at Westow House beginning 31st January to the 3rd February in aid of Parkinson's. There'll be drinks promotions through the whole festival and for those of you who don't know too much about Parkinson's, more information is below – this is a truly worthy cause.
Information from Parkinsons.org.uk
Parkinson's is a progressive neurological condition.
One person in every 500 has Parkinson's. That's about 127,000 people in the UK.
Most people who get Parkinson's are aged 50 or over but younger people can get it too. One in 20 is under the age of 40.
People with Parkinson's don't have enough of a chemical called dopamine because some nerve cells in their brain have died.
Without dopamine people can find that their movements become slower so it takes longer to do things.
The loss of nerve cells in the brain causes the symptoms of Parkinson's to appear.
There's currently no cure for Parkinson's and we don't yet know why people get the condition.
Parkinson's doesn't directly cause people to die, but symptoms do get worse over time.
Parkinson's Symptoms
The main symptoms of Parkinson's are tremor, rigidity and slowness of movement.
As well as affecting movement, people with Parkinson's can find that other issues, such as tiredness, pain, depression and constipation, can have an impact on their day-to-day lives.
The symptoms someone has and how quickly the condition develops will differ from one person to the next.
Our signs and symptoms of Parkinson's section will tell you more.
As Parkinson's progresses, an increased amount of care and support may be required, although many people maintain a good quality of life with limited care or treatment.
Category: Entertainment, Health