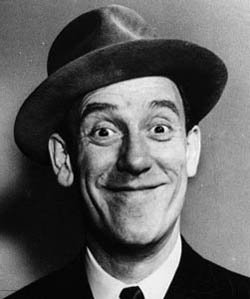 "You lucky people" was Streatham born stand-up comedian Tommy Trinder's catchphrase as he entertained us through the middle of the 20th Century. Trinder was referring of course, in a cheeky manner, to the audience's fortune at being able to witness his considerable talent.
Trinder's catchphrase could be relevant today for fans of live comedy. There is such a great choice of live comedy nights taking place in South London. From the established nights at Up The Creek in Greenwich, to Banana Cabaret at The Bedford in Balham, to The Hob in Forest Hill, to Pull The Other One in Herne Hill and to smaller less regular nights taking place in Penge, Tooting, Streatham, Norbury and even, ahem, Gipsy Hill!
As someone who has spent a lot of time in these clubs over the years I have had some fantastic nights. I saw Micky Flanagan on a couple of occasions down at The Bedford, doing his "Out, Out" routine years before he was on our TV screens.
I've laughed so much I thought I was going to burst watching Daniel Kitson turn up at The Hob in Forest Hill on New Material Night to do 10 minutes that ended up being nearer 40. Plus entrance was only 3 quid!
I've seen The Greatest Show on Legs perform The Balloon Dance at Up The Creek. I will say no more than please have a look for it on You Tube. It was both outrageous and hilarious.
As I'm now booking acts myself I've had the pleasure of meeting some funny, funny people. None of whom you'd have heard of, but I've given them 10 or 20 minutes of stage time and, in comedy parlance, they've "smashed the room".
But according to official figures, comedy audiences at these clubs are dwindling. Big acts are now playing the arenas in front of 15,000. Comedy Channels and sales of DVDs mean we can see stand-up on the telly without ever leaving our sofas. That's fine as it suits tastes and budgets, but at the same time there are some brilliant acts out there you could be missing out on who don't have that level of exposure.
The heart and soul of comedy is in small clubs with maybe a couple of hundred paying punters at most. It's much more intimate and personal. I'm no historian but I do like a punt and I'd have money on the fact the first comedy gig ever took place in a small cave with a group of people sitting around a fire while one larked about for laughs.
If you've not been to a live comedy show for a while, or never have, why not give it a go? You're spoilt for choice with what is going on close by. Pick one. I bet you'll have a blast.
Thanks for reading, "you lucky people".
Pete McAuliffe
GHTComedy@hotmail.co.uk
Category: Entertainment