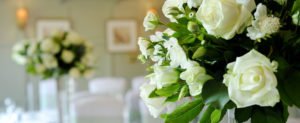 Your wedding day definitely needs that personal touch, and while it might be easier to have someone from etsy put your invitations together or a professional florist oversee your floral arrangements, it's much more fun (and cheaper) to include a little DIY in your big day.
Here are some ideas of what you can craft – that won't go terribly wrong!
Invitations
Invitations are possibly the simplest DIY craft you can create for your wedding day – it's just the sheer number required that can make the task a lengthy one. We love the vintage look with brown card and a mix of swirling and sharp fonts to create a quirky, kitsch look. Add some lace around the edge to really finish things off – it's so easy! Here are some great looking wedding invitation fonts you can browse and choose from when designing yours.
Thank you cards
After the party's over you're going to need to thank your guests for the gifts they gave on the big day. Home Crafts is a great option instead of buying generic thank you cards, pick up one of the easy to assemble and ensure your thank you doesn't go unnoticed.
Flowers
While the thought of arranging your own flowers might make you panic a little, there's nothing to fear. You can arrange a bouquet using wholesale bunches and even attend a class beforehand to learn how to do things the professional way.
However, we think DIY is all about creating something special and personal to you and a wild looking bunch to carry down the aisle could be just what your wedding needs. Practice as the big day approaches but all you really need is lots of your favourite flower and some pretty ribbon to tie it all together.
Alternatively, artificial or paper flowers are growing in popularity as people want to keep a special memento from their big day – and these of course don't wilt and die! Here's a great tutorial on how to make a gorgeous bouquet using artificial flowers.
Cake and desserts
Don't pay those extortionate prices for a wedding cake – it's estimated that the average cake costs around £296 – if you're great with the flour and a mixer. A homemade wedding cake will elicit more of a response than a grand one made by a professional, people will be amazed that you found the time and you could even rope family members into creating desserts for the cake table.
You don't even have to have just the one big cake. Brownies, cupcakes and even doughnuts are gaining in popularity now when it comes to wedding desserts and are a great way of saving money on the meal too – don't have a third course, just send everyone over to the table of treats!
When it comes to crafting for your wedding, take on a couple of projects and really make it a day that feels special, with plenty of personal touches and nights with bridesmaids and family crafting together in the run up.
Category: Shopping